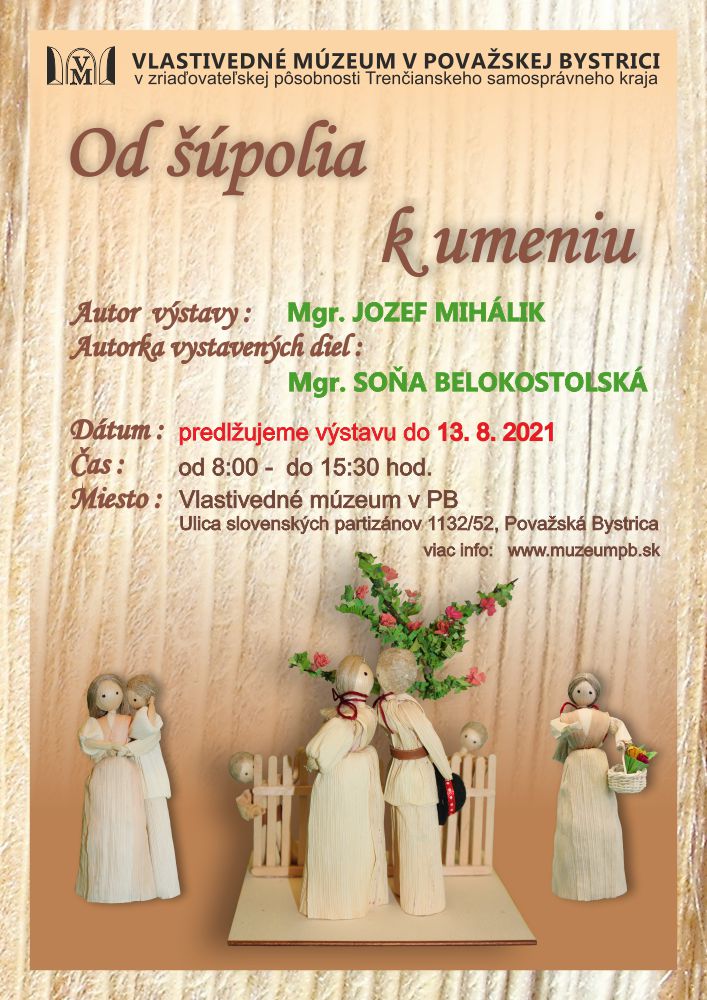 The Homeland Studies Museum is again open to the public
Following the renewed activities of the Museum of National History in Považská Bystrica, under the founding authority of the Trenčín self-governing region, in cooperation with the artist Mgr. Soňa Belokostolská, cordially invites you to a tour of the ethnological exhibition entitled From šúpolia to art, which is open to the public in the premises of the Museum of National History in Považská Bystrica.

The exhibition presents the story and the process of creating dolls in our territory. Her work is divided into four seasons and the uniqueness of the scenes lies in the depiction of customs during each period. In the exhibition room there is also a model of the mill from the collections of the muse with figures depicting life in the mill. The exhibition is complemented by information banners, which contain information about the exhibition. The overall idea of the production of a doll's doll is enhanced by a video recording in which the author of the exhibited works talks and shows the process of making a figure from a sash.
The main goal of the exhibition is to point out a broader view of the issue of elaborating dolls, where, in addition to artistic creation and the final product, the visitor will learn a little more about the preparation of the material and the process itself. However, the most important part of the exhibition remains the artistic work of the local artist, who tries to portray non-traditional and as yet unprocessed scenes.