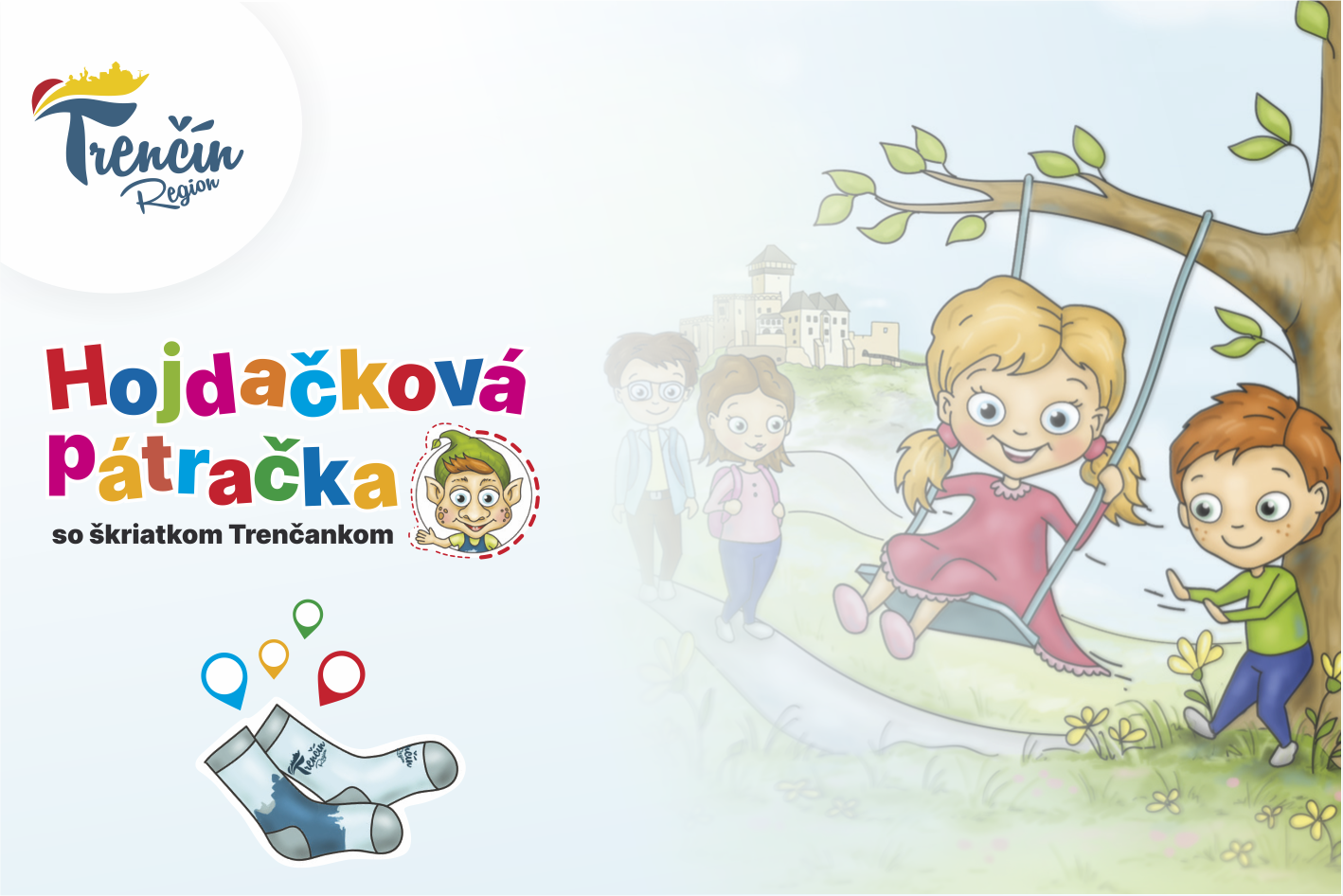 Swings will be the hit of the summer in the Trenčín region! "Swing quest" will entertain both young and old and will fill the family photo album with beautiful memories.
The regional tourism organization Trenčín Region has prepared a summer tourist game for all enthusiastic explorers and swing lovers! They will be looking for swings and letters hidden on them.
10 swings in nature across the region and 10 boxes on the illustrated map of the Trenčín Region represent this summer's challenge. The little ones will be accompanied by a story about the elf Trenčanek and the fairy Hojdalka.
Want to get involved? Your task is:
- Get a competition map

- Visit all 10 places marked on the map from July 1. until 30.9.2022

- Find 1 hidden letter on each swing and add it to the corresponding window on the map

- Take a picture on the swing

- Send a photo of the completed map together with the most beautiful photo of the swings to the e-mail address hojdecky@trencinregion.sk no later than 30.9.2022

- In the e-mail, enter the first and last name, mailing address and the names of other family members/friends who completed the quest with you.

- Each competitor who sends a completed map with letters will receive original socks from the announcer. Other family members/friends who completed the quest will also receive socks.

- The contestant who sends the map will be entered into a draw for valuable prizes

Maps will be available at the Cultural Information Center in Trenčín, the Púchovská Information Center, the PX Center in Považská Bystrica, the Tourist Information Office (TIK) in Trenčianske Teplice, the TIK Bojnice in the Trenčín Castle, in the Office of the Trenčín Self-Governing Region or downloaded in electronic form.
List of swings:
Swing Trenčín region - Trenčín District, Trenčín Castle

Swing Trenčianska Teplá - Trenčín District, Trenčianska Teplá near the cross, GPS: 48.926389 18.115833
Swing Soblahov - Trenčín District, Soblahov, GPS: 48.851944 18.117222

Zelená voda swing - Nové mesto nad Váhom district, Zelená voda, Beach bar, GPS: 48.766944 17.855833
Swing Radobica - Prievidza District, Radobica, Mini park Hôrka, GPS: 48.583056 18.5
Swing Mojtín - Púchov District, Mojtín, ski resort, GPS: 48.973056 18.423333
Swing Podmalenica - Púchov District, Podmalenica, GPS: 49.028611 18.39
Swing Sedlo Marek - Považská Bystrica District, Bodiná, Sedlo Marek, GPS: 49.113889 18.590278
Swing Záriečie - Púchov District, Záriečie, GPS: 49.185833 18.252778
Swing Strelenka - Púchov District, Lysá pod Makytou, Strelenka, GPS: 49.18 18.166667
The electronic form of the map and the status of the competition can be found in the attachment.

Documents