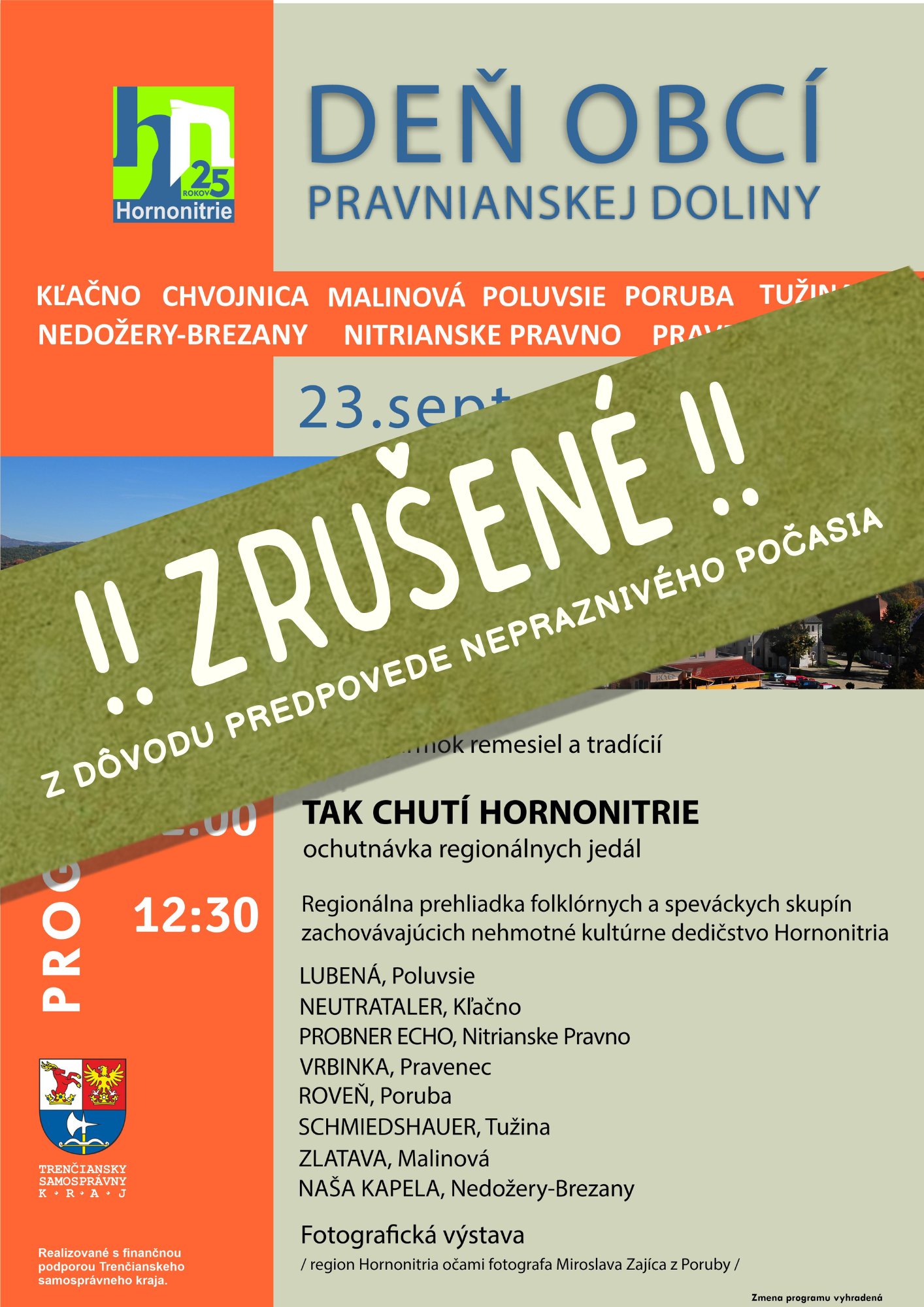 CANCELED - Day of the municipalities of Pravnianska dolina
The HORNONITRIE Association and its member municipalities announce that, due to the unfavorable weather forecast, the PRAVNIANSKEJ DOLINY DAY OF COMMUNITIES event will unfortunately NOT take place on Saturday, September 23, 2023.

We invite you to the 9th year of the PRAVNIANSKA DOLINA MUNICIPAL DAY event, which is being prepared for you by the mayors of 9 HORNONITRIA municipalities. It will be held on Saturday, September 23, 2023, on the square in Nitrianské Pravno. The celebration is inextricably linked with regional folklore, traditions, crafts and tasty specialties.
The taste of the region will take over all your senses. A varied palette of flavors and traditional dishes of the region will be created by Chvojnice bryndza dumplings, Poluvska kapustnica, Kląčnia salted šuľanka, Malinovska prezlovka or poppy šuľanka, Porubská držková, Tužinka kapustnica with beans, Nedožersko-Brezia sűuchy, Pravenčianska progeniny and Pravnia goulash, or halásle. The Tasting of food from Hornonitrie will start at 12:00 p.m.

As part of the parade of folklore and singing groups, starting at 12:30 p.m., individual villages will be represented by the folklore group Lubená from Poluvsia, Neutrataler from Kľačno, the local Probner Echo, Vrbinka from Pravenc, Roveň from Poruby, Schmiedshauer from Tužina, Zlatava from Malinova and Our Band from Nedožier-Brezian.

From 10:00 a.m., the folk fair of handicrafts and traditions filled with crafts and folk-artistic kumšt of regional masters will complement the Pravnian Valley Villages Day singing parade.

Another accompanying event will be the photographic exhibition of Miroslav Zajíc from Poruba, entitled Region Hornonitria through the eyes of a photographer, which will be located in the ceremonial hall of the municipal office in Nitrianský Pravno from 19.9. until 25/09/2023, accessible during the opening hours of the municipal office, or by telephone at 0911 878 010. During the Saturday event, 23/09/2023, the exhibition will be accessible from 10:00 a.m. to 4:00 p.m.