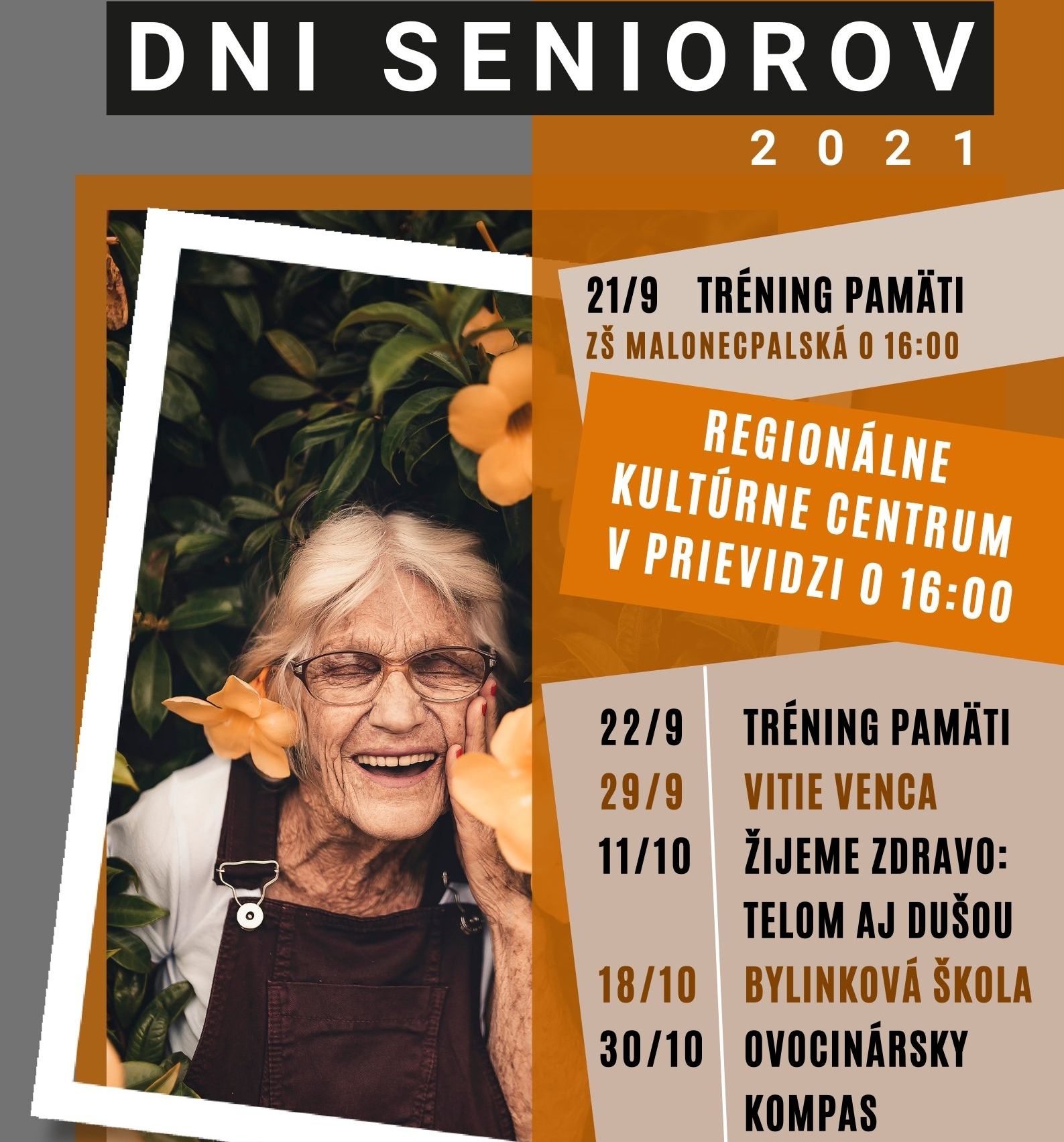 DAYS OF SENIORS in Prievidza
The Regional Cultural Center in Prievidza has prepared a series of events for seniors aimed at making full use of time and improving the quality of life.

MEMORY TRAINING - 21.a 22.9.2021 at 16.00 h
The first of the events, which will take place on the occasion of World Alzheimer's Day, focuses on memory training. Seniors get closer principles and techniques of memorization. The lesson will be led by lecturer Mgr. Antónia Bartošová.
The event will take place on two dates:
21.9.2021- ZŠ Malonecpalská, Necpaly, Prievidza
22.9.2021- Regional Cultural Center, Záhradnícka 19, Prievidza.
CREATIVE WORKSHOP - 22.9.2021 at 16.00
The participants of the course will learn how to make wreaths of dried flowers under the guidance of lecturer Petra Oboňová - Dieľnička pri družstva.
The number of participants is limited to 9 people
WE LIVE HEALTH: BODY AND SOUL - 11.10.2021 at 16.00
The event will take place on the occasion of World Mental Health Day. The lecturer will be lecturer Mgr. Veronika Ragan, MD Darina Hrabovská and Mgr. Eva Bartová
WE LIVE HEALTHY: HERBAL SCHOOL - 18.10.2021 at 16.00
At the Herb School, seniors will be advised about the home herb garden and also how to create an herbal first aid kit. The lesson will be led by lecturer Adriana Polerecká
FRUIT COMPASS - 30.10.2021 at 16.00
Lecturer Ing. Marián Komžík


To participate in the courses it is necessary to register at: vzdelavanie@rkcpd.sk or by phone at the phone number: 0901 918 819