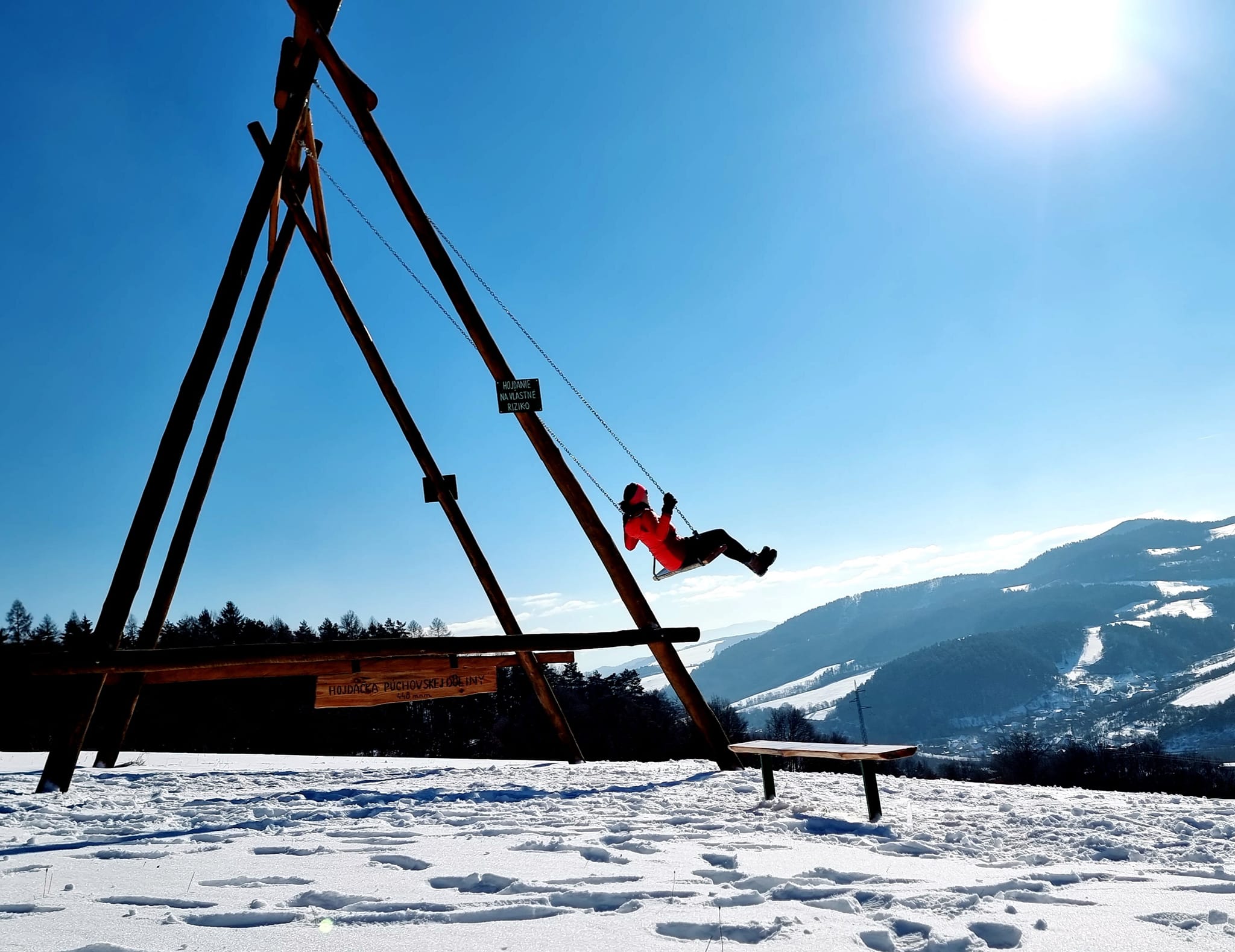 Hojdačková patračka became a hit last summer. How about trying the winter version of this tourist activity? Visiting selected swings hidden in nature across the region is not exclusively a summer affair. It will definitely be a challenge, but also super fun, and spring break is perfect for trips.
The swings are still in place, and except for the swing on Green Water, they are all ready to swing you. Of course, you don't need to visit all of them, just choose one and spend a nice day in nature. Most of the swings are located on a nice hill, so taking a sled or shovel with you will certainly not hurt.
A map with a nice story, interesting facts and nice activities can accompany you on your trips. However, there is no main prize, but one of you who sends us the most beautiful photo will receive original socks from us from the trip.
List of swings:
Swing Trenčín region - Trenčín District, Trenčín Castle

Swing Trenčianska Teplá - Trenčín District, Trenčianska Teplá near the cross, GPS: 48.926389 18.115833
Swing Soblahov - Trenčín District, Soblahov, GPS: 48.851944 18.117222
Swing Radobica - Prievidza District, Radobica, Mini park Hôrka, GPS: 48.583056 18.5
Swing Mojtín - Púchov District, Mojtín, ski resort, GPS: 48.973056 18.423333
Swing Podmalenica - Púchov District, Podmalenica, GPS: 49.028611 18.39
Swing Sedlo Marek - Považská Bystrica District, Bodiná, Sedlo Marek, GPS: 49.113889 18.590278
Swing Záriečie - Púchov District, Záriečie, GPS: 49.185833 18.252778
Swing Strelenka - Púchov District, Lysá pod Makytou, Strelenka, GPS: 49.18 18.166667
Finally, we have a few tips for you:
- If you go to Trenčín castle , take a walk through the Brezina forest park, entrance to the castle is only possible from this side during the week
- From the swing in Trenčianske Tepla, it is only a short distance to the spa town of Trenčianske Teplice, which is definitely worth a visit. You can, for example, take a dip in the Grand outdoor thermal pool.
- On the way to the swing above Soblahovo, you will pass by Chata pod Ostrým vrchom, where you can have a tasty lunch, and the children will surely enjoy the mini ZOO.
- From Hojdačka in Radobica, it is only a 15-minute drive to Partizánske, where you can visit the observatory. During the holidays, they have prepared "Spring Holiday Starry Adventures" for visitors, in which a small alien will tell children about the solar system, constellations, the universe, and it will also be possible to observe the sun and the starry sky in the evening.
- If you go to Mojtín , don't forget your skis, because it is located on a ski slope. You can warm up at the Vrška buffet directly below the slope.
- You can also go from Podmalenica in the direction of Mojtín. If you don't feel like skiing, Mojtínska cave, which in the past served as a cave church, is interesting.
- From Sedla Marek you will have a wonderful view of Manín. On the way, you can also stop at Považ Castle.
- Just a short distance from the swing in Záriečí, on the hill, there is a giant bench with a beautiful view.
- It is not far from the Strelenka swing to the Čertov ski resort, approximately 20 minutes by car.
Author: PG
Photo: Zuzi Zahra
17.2.2022
Documents