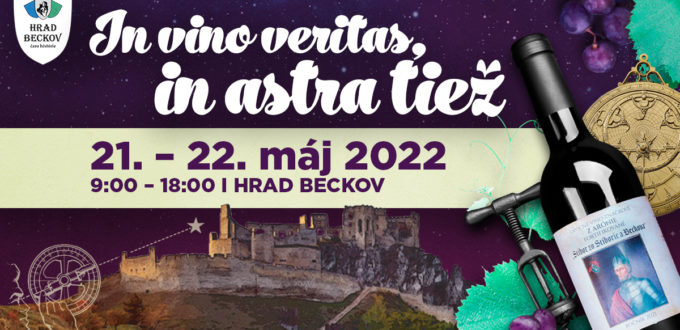 There are stars in the wine
The weekend at Beckov Castle will be marked by wine and stars - the traditional evening event "There are stars in wine" will be complemented by a daily program for children and adults.
There will be an exhibition of medieval cuisine, activities for children, archery and traditional crafts. There is a search for astronomy for children, in which you will learn to use an astrolabe or a gnomon, you will get to know the starry sky, but also medieval astronomy. You will also find out something about medieval viticulture and how wine or pub production has worked in the Beckov estate over the centuries.
On Saturday night in May , you can look forward to a concert by Colorful People and observing the night sky with binoculars with the assistance of an observatory, and there will also be a screening of films about the secrets of the solar system and stars in the planetarium. We will start the wine part of the program with an explanation connected with wine tasting. This year you can taste the wines of three different wineries - Ovocinár Hrehor, Čachtické chotáre and winery Heger.
Throughout the night you will be able to enjoy the atmosphere of the castle, the medieval tavern, or eat something tasty with good wine.
More information about Saturday's event There are stars in wine
More information about the weekend event In vino veritas, in astra as well