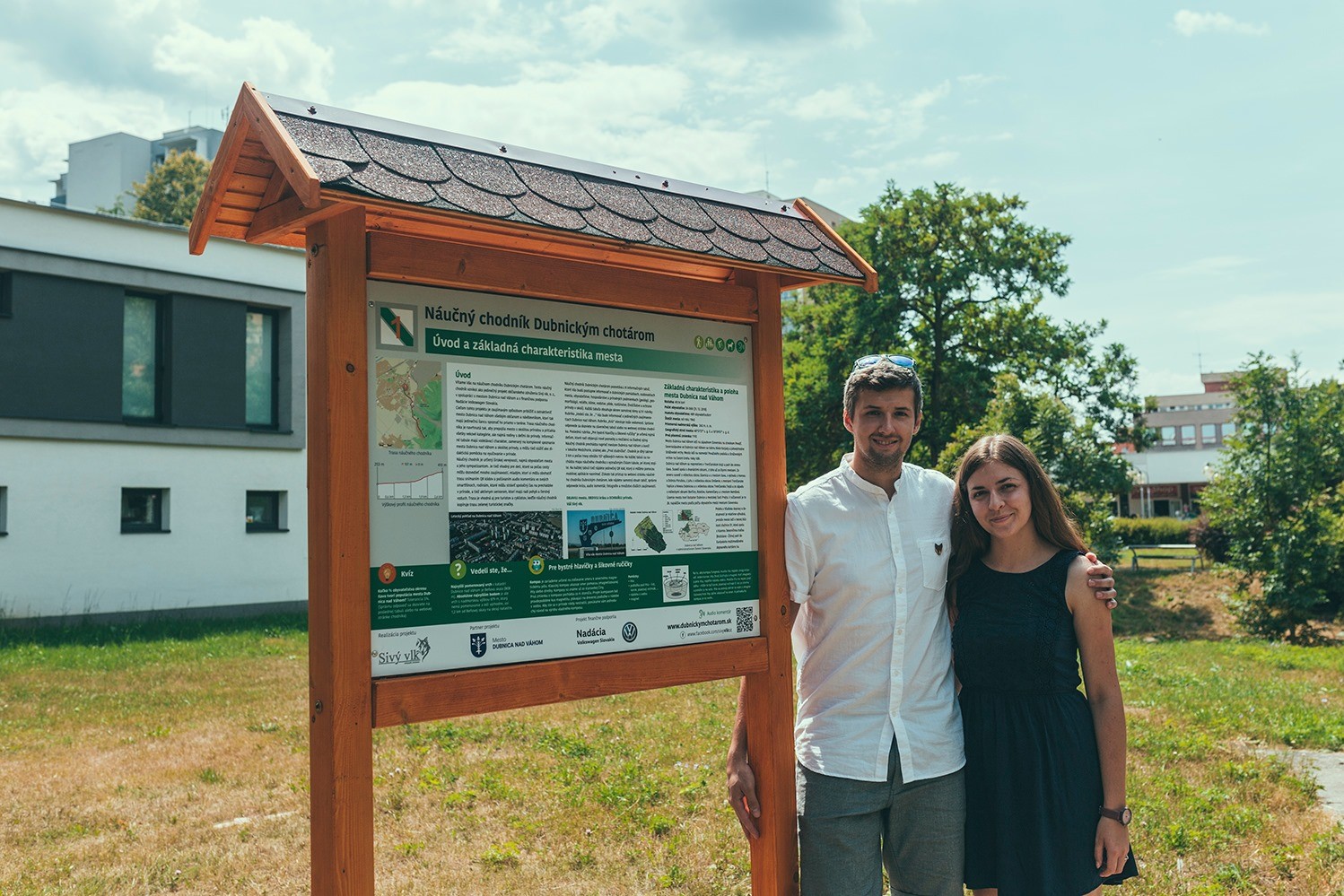 Do you like hiking trails which, in addition to the eye of delicious nature, will also give you new knowledge in a playful way? In such a case, a visit to the Dubnický chotár Nature Trail is the right one for you and your whole family.
The initiator of the project is the civic association Gray Wolf, which deals with topics such as environmental protection, ecology and environmental studies. "Nowadays, it is very important to keep pace with technological progress, precisely because the sidewalk is attractive and attracts young people. The graphics and appearance of the educational boards should look modern and at the same time simple. The gray and green colors refer to the connection between the city and nature. I see the uniqueness of the project in the location of QR codes, which redirect you to the project website www.dubnickymchotarom.sk . On the website, you can go the whole route online, view the boards or listen to the audio commentary, " says Adam Rehák , chairman of the civic association.
Thanks to the website and audio recordings, it is possible to get to know the city even for disadvantaged groups.
Made for a family trip
Visitors and tourists are waiting for almost 3 kilometers and overcoming 157 altitude meters, on which there are a total of 8 boards. Thanks to them, they will learn about the basic characteristics of the city, monuments, important personalities, economy, population or natural conditions. The path stretches along the path from the park of French partisans to the well in Mezihorí.
Conquering this route is an ideal trip for families with children, but also for enthusiasts of history, nature or walks. In addition to the civic association, the city, residents and sponsors also took part in its implementation.
The city of Dubnica nad Váhom immediately liked the idea of installing benches: "We, of course, welcomed the initiative to create an educational trail in the city that will lead people from the city center to the popular well location. We therefore gladly supported the idea. As a city, we came out of hand with the creators of this nice idea and, at our own expense, installed eight pieces of educational boards in selected locations. We believe that the sidewalk will serve not only Dubničans for a long time, but also the inhabitants of the surrounding villages and towns or visitors, and that it will be a sought-after diversification of walks in the Dubnica forests, "said Veronika Rezáková, a public relations officer.
In Trenčín, August 7, 2019
Text: MT