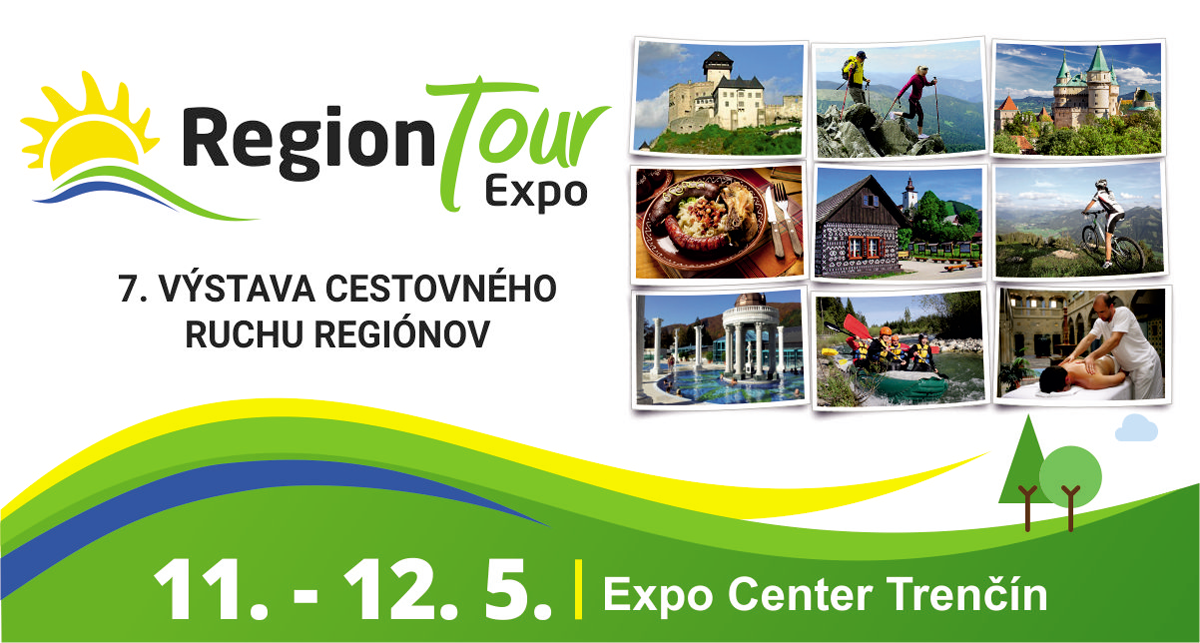 After a year, the Trenčín Exhibition Center will again take a tour of the best that Slovak regions and regions of neighboring countries can offer. The 7th annual REGION TOUR EXPO will take place on 11 and 12 May 2018 at the exhibition center Expo Center in Trenčín, which will bring travelers, local tastes and the latest news for this year's tourist season.
Your offer will be presented by the cities, municipalities and regions of Slovakia, the Czech Republic, Poland and Hungary. At the fair, we will present the lesser known ones, tips for interesting excursions, quality spa stays or active holidays.
The local regional tourism organization (KOCR) Trenčín region will also present news about the upcoming summer tourist season, natural beauty, cultural sights and regional specialties tasting. Visitors to the presentation booth can look forward to the adrenaline opening of the exhibition in Majesty's Europe, and several times the Master of Slovakia in cycling, Martin Behre . Presentation of a native from Trenčín region, who will show his art on Friday at 11.30 h in pavilion no. 5, will surely appeal to a few lovers of extreme sports. A successful cycling tribe will also invite all cyclists to discover the Trenčín region from the bicycle seat via online cycling routes , which are on the interactive map of the www.trencinregion.sk web portal. In order to get to know the region, visitors will also invite a fun contest "Cross Country in 100 Days" , prepared by KOCR Trenčín region for families with children to fill vacancies. Together news and a list of events at KOCR stand Trenčín region will be presented by member regional tourism organizations. The tasting cells of the visitors of the booth will enjoy the tasting of healthy drinks and salty and sweet mousikov, prepared by students of the Secondary Schools of Trade and Services from Trenčín and Púchov, from local raw materials typical of the Trenčín region.
Together with the exhibition there will also be a tradition of the whole Slovak exhibition of confectionery Torty & svět pečení and the 3rd annual festival of Slovak products "Taste of Slovakia", intended for all gourmets. The exhibition will not miss a rich cultural program, interesting lectures and traditional craftsmen, which will feature the open-air exhibition grounds.