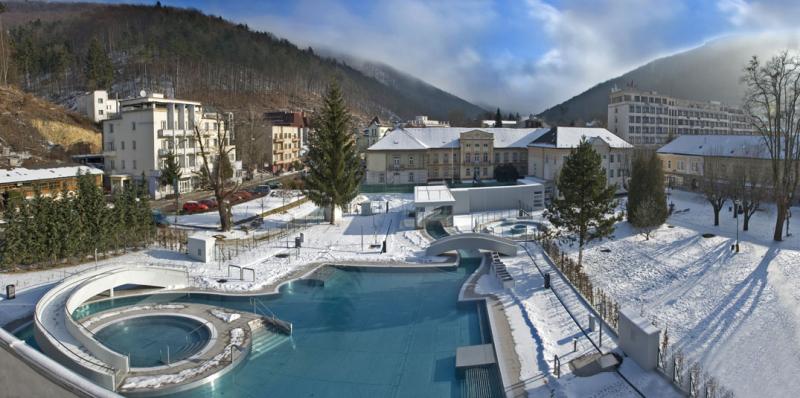 It has become a tradition that at the end of the calendar years the inhabitants of the Trenčín region have the opportunity to take advantage of the special discounts of the spa in Trenčianske Teplice. Adding "home" to hot pools during the cold winter season, probably out of season, is the philosophy of the "Spa in the Region" action. Her next, in the sixth year, ran from 1 December 2017 to 28 February 2018.
In the course of three months, visitors could use all indoor thermal pools at half price rates. Moreover, during the whole period, a 30% discount was also granted to the Grand Swimming Pool, which is the blue dominant of Teplice Square.
"Spa in the Region" is a successful and long-term project, thanks to the cooperation of the Trenčianske Teplice and Kúpele Trenčianske Teplice executives, it deepens the importance of mutual cooperation. This year, 61 towns and municipalities of the Trenčian region were involved in the project, and the partner town of Trenčianske Teplice - Vsetín was again supported.
A record number of 11,719 spa guests confirmed the popularity of the event, as compared to the previous year it was used by almost a thousand visitors.
"Our Spa attracts more and more visitors. Despite this weather, this growing trend has once again confirmed that we still have something to offer not only to spa guests from the remote parts of Slovakia or abroad, but also to the local inhabitants of the Trenčín region. I'm glad that Spa in the region is today one of our TOP products of the winter season, people ask for it themselves, cities and municipalities are active in the promotion. I believe that another year will not be an exception and the tradition will remain in the future, "said Michal Vojtaš , General Manager of Spa Trenčianske Teplice, as
"Spa in the region is already a proven activity, which every year we try not only to add financial benefit to the people who care about their health but also to support small and medium-sized entrepreneurs in the city outside of the main season. I believe that this successful project will continue next year, "added Mayor Štefan Škultéty .
Source: Regional Tourism Organization Trencianske Teplice