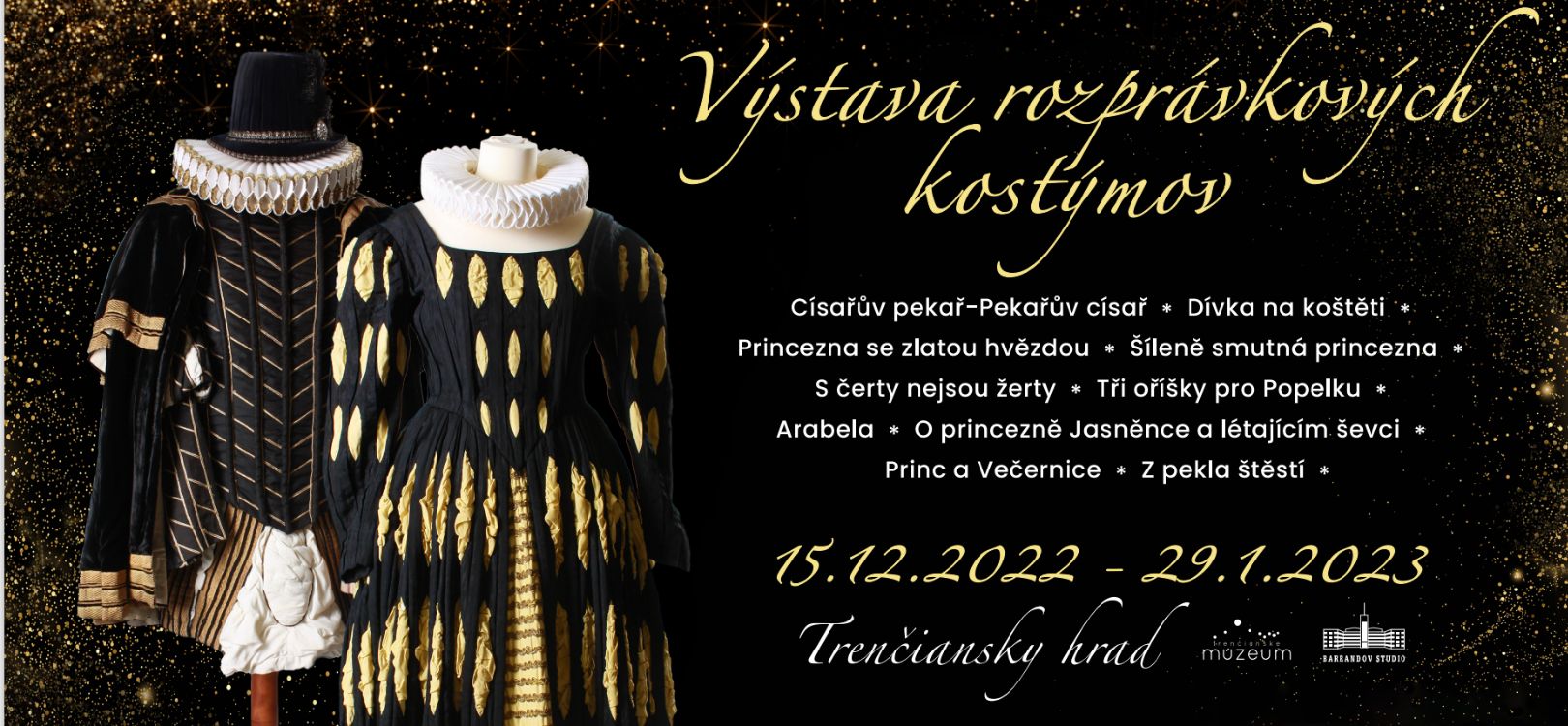 The most beautiful fairy tales met at Trenčín Castle
The Trenčín Museum in Trenčín, in cooperation with Prague's Barrandov Studio, prepared a unique exhibition of original film costumes from popular Czechoslovak fairy tales at the Trenčín Castle.
The exhibition of fairy tale costumes is made up of 37 costumes, furniture and props that were used in the filming of fairy tales. In addition, the exhibition is complemented by collection items from the depositories of the Trenčín Museum in Trenčín, including items that have never been exhibited.
At Trenčín Castle, visitors will have the opportunity to see the costumes worn by iconic actors such as Libuše Šafránková, Jan Werich, Helena Vondráčková, Jiří Lábus and Helena Růžičková. Visitors can admire with their own eyes the original costumes of the Princess with the Golden Star and Kazisvět, Emperor Rudolf II and his Sirael, Arabela and Rumburak, Večernica and Saxana in the premises of the barracks at Trenčín Castle, where the exhibition is installed.
A total of 36 costumes from the fairy tales Arabella, Three Nuts for Cinderella, The Princess with a Golden Star, The Emperor's Baker-The Baker's Emperor, The Insanely Sad Princess, About Princess Jasmine and the Flying Shoemaker, The Girl on the Broom, No Jokes with the Devil, Happiness from Hell and The Prince are on display. and Večernice. The 37th costume consists of wings, constructed according to a drawing by Leonardo Da Vinci, which were used in the fairy tale About Princess Jasněnka and the Flying Shoemaker.
The oldest costumes are more than 70 years old (from the title Císařův pekař-Pekařův pekař), the most expensive costumes in terms of purchase price are from the title Z pekla štěšice (1999) by director Zdenek Troška. The cultural value of some costumes is in the thousands of €, the most expensive costumes from the point of view of their historical and cultural value are from the titles Crazy Sad Princess (Helena Vondráček's costume as Princess Helena) and Císařův pekař-Pekařův Kaiser (Jan Werich's costume as Rudolf II.)
The exhibition is complemented by film jewelry, film furniture, props from Barrand's studios and the museum depository, and original music. Visitors have the opportunity to recall the individual characters and actors from the visual material that shows the specific costumes captured in the film scene, including the accompanying words to the individual titles.
The exhibition will last from 15/12/2022 to 29/1/2023 and is included in the price of the ticket to the Little Circuit in the Castle. During the Christmas holidays, Trenčín castle is open on 26/12/2022, 24-25/12/2022 and 1/1/2023 the castle is closed.
You can buy tickets HERE
Source: Trenčín Museum in Trenčín