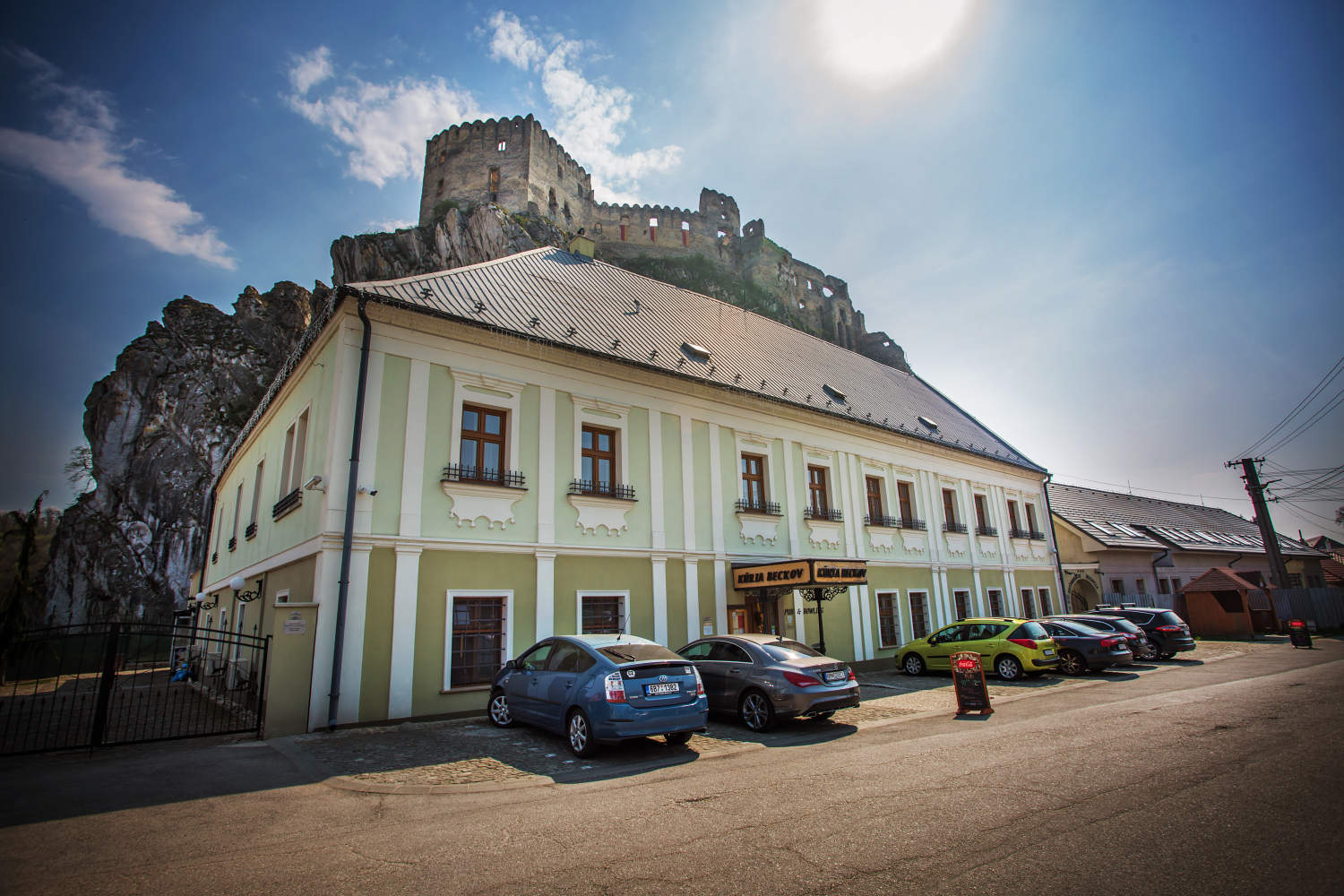 On Thursday, January 28, 2021, the expert commission selected, on the basis of individual nominations, winners in 5 categories in the TOP competition in tourism in the Trenčín Region for 2020. The first category was TOP accommodation facility, in which the unique Beckov *** Curia earned its first place. The owner and manager Marcel Dvornický told us more about this object in an interview.
1. How did the idea for the Beck Curia come about?
The initial intention to try to build a family business was created in 2002 during my studies at university, and it was basically the result of my personal experience to date, as well as the realization of a dream or an idea of where I should direct my activities. Since I come from Trenčín and there were not enough such spaces and possibilities in Trenčín, with a family without which I would never be able to turn something like this into reality, we discovered a dilapidated building right under the castle cliff of Beckov Castle and embarked on a very demanding project. , which results in a pleasant family pension in an exclusive environment.
2. How long did the reconstruction work last? Are there any complications during that time?
We started the construction work on our own at the end of 2004, given that my father was the owner of a professional and successful construction company with many years of experience and we opened the operation to the public after less than three years, in August 2007. also vandalism, so the situation at the time was not gratifying, but provided great potential that kept us on a positive wave.
We tried to preserve those historical elements that were not so damaged, and in addition to the reconstruction work, we also discovered a few that even the last monuments from the area did not know about. For example, the preservation of the original railing in the accommodation part, the elevator shaft used for supply to the basement, as well as the original so-called The "Slovak Room", from which today's Lounge with the original vaults was created. Our biggest surprise was the discovery of the original stone vault in the former wine cellar, the current bowling alley, which was not known at all, because it was hidden under several layers of plaster during previous insensitive construction interventions.
Thanks to all our close people through the architect Ing. Arch. Petr Kohout, academic sculptor Igor Mosný, our construction technicians, representatives of the Municipality of Beckov, as well as all employees and friends who took part in the reconstruction, we managed to transform our visions into a perfect result, for which we are very grateful to them all.
3. For whom is the Beckov Mansion an ideal place to visit and stay?
We designed the pension primarily so that it is as usable as possible, which resulted in a wide range of our target group and provided us with a balance of tourist seasons, as well as stable use by our guests. It can be said that we can satisfy every customer throughout the year, even though we are not located in the center of tourism.
During working days, our clients are corporate clients, ie business travelers, and representatives of international companies, who are extremely satisfied with our exclusive accommodation facilities directly below Beckov Castle, as well as with our gastronomic and service services. Weekends are suitably filled with family weekend stays, as well as pleasant "happenings" in our beautiful environment. These are mainly weddings, celebrations, christenings or Sunday festive sittings and gatherings in a circle of family and friends. We focused on these groups when building a natural lake with a swimming zone, a tennis court, a playground and a children's corner or our year-round terrace with an exclusive view of a rocky cliff with the ruins of Beckov Castle.
4. From which countries do guests come to you? Do celebrities also visit Curia Beckov?
We ourselves are surprised from what different countries, thanks to one of our target groups, customers come to us and we can say that we have accommodated guests from almost every country on our planet. If we do not take into account the past year 2020 associated with the restrictions caused by the pandemic, the average monthly number of nationalities accommodated in our country was at the level of about 15 to 20 nationalities per month.
Thanks to several collaborations with agencies, multinational companies, as well as organizations (such as Pohoda Festival), we are very pleased to welcome several famous celebrities from the social, cultural, sports, political and showbiz environments. Of many, I would like to mention the working meeting and visit of Kúria Beckov by former President of the Slovak Republic Andrej Kisk, the wedding of singer Rob Opatovský, family sitting of Pavel Demitra or accommodation within the Pohoda Festival to Robert Bezák and Daniel Pastirčák, as well as countless locals and foreign music performers.
5. What can guests look forward to when visiting your restaurant?
Our team of chefs has experience not only with Slovak but also international cuisine and strives for maximum professionalism and the greatest possible gastronomic experience, which this place not only asks for, but directly requires. Therefore, we constantly strive, based on new gastronomic trends and suggestions from our customers, to move forward to the maximum possible satisfaction of our clients. In addition to the regularly updated A´la Carte Menu, we also respond to the seasons, resp. raw materials that are typical for each season.
6. During the years that the Beckov Mansion has been working, you have definitely experienced a lot of pleasant and interesting experiences. Can you think of any specific ones you would like to share with our readers?
In the thirteen years of existence and after three years of reconstruction, there are many pleasant situations and it would be enough for a decent collection of short stories. Very often, our employees deal with a situation where our smallest customers, our children, inadvertently take a bath in festive clothes in our pond. That is why our large-capacity clothes dryer is used quite often, where we can fit a set of festive clothes with shoes and our children sit on the terrace tangled in a towel. It is even more comical when, during weddings, involuntarily, and in many cases voluntarily, bathed with the bride and groom (in a wedding dress) as part of a wedding party.
However, I can't help but mention the most common question, I dare say, to almost every third customer: "And won't the castle fall here for you?"
7. Did you enjoy winning the TOP competition in tourism in 2020 in the category TOP accommodation facility in the Trenčín Region?
Our entire team enjoys this win and praise, especially when we know it comes from satisfied customers. In our segment, customer satisfaction and praise is the maximum impetus for each day, because then we know that we are doing what we are doing right.
It is all the more pleasant and valuable for us at this time and after 2020, when we could not welcome our guests in our premises for practically 5 months, and therefore on behalf of our entire team I would like to thank all our customers for their support in this challenging period. We want to wish your readers and our customers and their families good health until the beginning of the "better" year 2021, because only in good health can we meet them and entertain them in our premises.
In Trenčín 4.2.2021
Text: MT