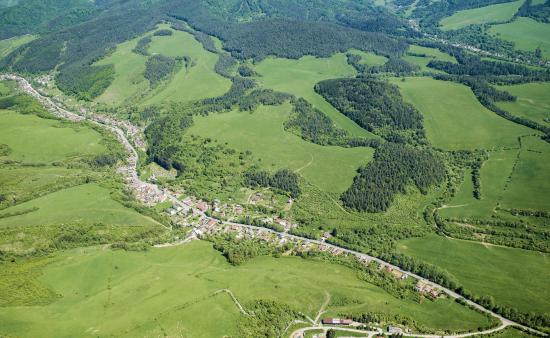 The village surrounded by mountains offers what you will not find so easily in busy cities - amazing peace. If you are a fan of tourism, Kľačno is the right choice for you. The mountain village is an ideal starting point for longer hikes and shorter walks, which will reward you with beautiful views of the entire valley.
The village itself is one of the longest in the district of Prievidza - it has about six kilometers. A tourist path will take you to Kľak, from which you will have the most beautiful view of the upper Nitra. In addition, below its peak is the Kľacký waterfall. "You can also go by car to Fačkovské sedlo, which is the most visited tourist destination in our region. It is a starting point for hiking to the top of Kľak, which is such a dominant feature of ours, "says the mayor of Kľačno, Jozef Ďuriš. In addition, a sought-after marked hiking trail, also known as the "SNP Heroes' Path", leads along the Kľak ridge.
The surrounding nature is a huge attraction for many, it is known by tourists and cyclists. In addition, there is an outdoor school in the village, which was once administered by the Trenčín self-governing region. Today, its operation is in the hands of a private individual. "The whole area is well taken care of, for the village such a facility is definitely an added value," thinks the mayor. The facility has about 150 beds, its own kitchen and dining room. There is also a gym, football pitch and gym. In addition to outdoor schools, this area is also designed for individuals and groups. In the cadastre of the village you will also discover another interesting thing - the river Nitra springs below the Reváň hill. During its pilgrimage through Slovakia, it gains a number of tributaries and flows into the Váh near the village of Komoča in the district of Nové Zámky.
photo: website of the village Kľačno, www.klacno.eu