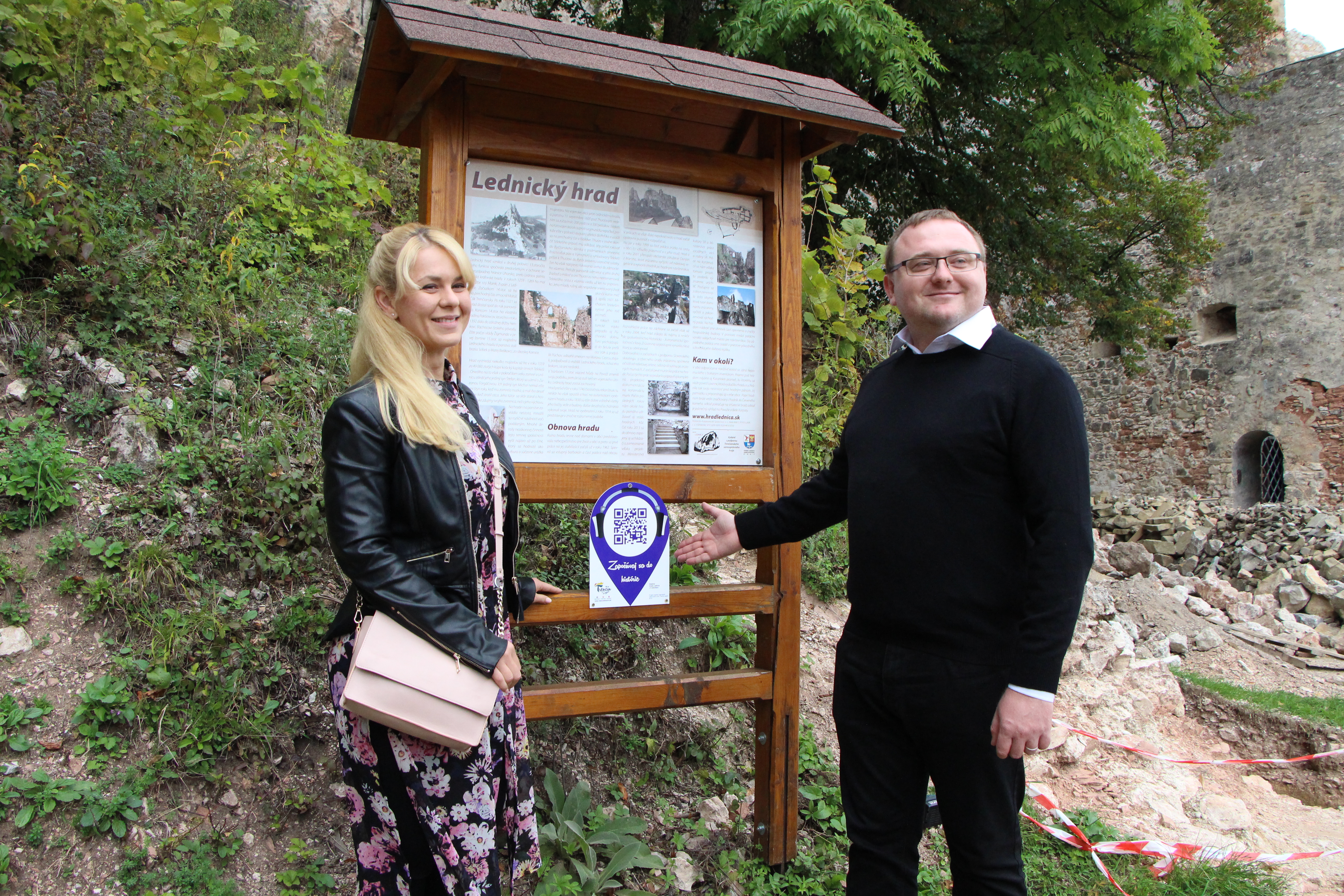 The Regional Tourism Organization (KOCR) Trenčín region has decided to offer visitors to ten monuments in the Trenčín region available audio recordings about the given localities. The table containing the QR code with the recording will always be placed in a visible place in the area of the historical monument accessible to all. She thus appealed to the need for people to learn more facts and interesting facts about the landmarks in the area.

Made-up boards are a great way to get knowledge of the monument for everyone. The first settlement took place on September 25, 2019 at Lednica Castle: "The intention of installing this table is to offer tourists a brief history of Lednica Castle on an audio recording. The name of the board with the QR code is Listen to history, so that it catches the eye of visitors as soon as they enter and to know that after reading the code they can listen to the rich history of Lednice Castle, " explained the executive director of KOCR Trenčín region Eva Frývaldská .
During October, the tables will be installed at Bojnice Castle, MR Štefánik Mound, the Skalka nad Váhom pilgrimage site, in the Observatory in Partizánske, but also at the castles in Beckov, Čachtice, Trenčín, Uhrovec and Považská Bystrica. However, the recordings in the Slovak language are only the beginning. In the future, a version in English or German will also be available for foreign tourists.
A table that attracts new people interested in history
As Lednice Castle is currently only accompanied at the weekend, the visitor will have the opportunity to learn more information 24 hours a day, 7 days a week through the recording . "We also welcome this activity because people can often learn about the ruins of the castle in Lednice only through the interpretation of guides. Therefore, our goal is to place more information boards on the castle. We are very happy that this board will provide visitors with complete information about the history of this landmark, " said Peter Martinisko , the castellan of Lednice Castle.
The recording contains historical information about the role of the castle in the past, how it developed and actually looked, but also interesting facts about its owners or the current state. The audio recording was recorded by Michaela Tišková, an employee of KOCR Trenčín region.
Thanks to a special technical setting, statistics on the number of QR code downloads to mobile devices will also be available. Based on this information, individual monuments can state whether this type of service has met with interest from visitors.
In Trenčín, September 26, 2019
Text: MT